There is nothing sexier than a smooth, flat stomach. For many people, diet and exercise are enough to achieve this goal. But for others who have been pregnant, experienced weight fluctuations, or are simply genetically predisposed to holding a disproportionate amount of fat on their abdomen, it just isn't that simple.
Fortunately, there are many Body Contouring options today, both surgical and non-surgical, that can drastically improve the appearance of the stomach and abdominal area. With so many options available, it can be difficult to know which procedure is best for you, but it usually comes down to deciding between three very different procedures: CoolSculpting, Liposuction, and a Tummy Tuck (or an abdominoplasty).
Coolsculpting, Liposuction or a Tummy Tuck: How to Choose the Best Procedure for You
If you're considering body contouring but aren't sure which procedure is right for you (CoolSculpting vs liposuction vs tummy tuck), consider the following:
Your Anatomy: Each of these procedures treats very different issues, and you may not be a candidate for all three. Do you have excess fat and no extra skin? Or just loose skin but no excess fat? Or do you have some of both? Are your stomach muscles separated? Generally speaking, tummy tucks are best for patients with excess skin or muscles that need tightening, while liposuction and CoolSculpting are best to treat stubborn areas of fat that just won't go away.
Your Timeline: Are you looking for immediate results or would you rather see your results come gradually over time? Choosing between CoolSculpting vs liposuction means you'll need to consider what kind of time you have to recover. Liposuction results will come immediately but it's an intensive treatment that requires rest and recovery in the weeks following surgery. CoolSculpting results usually require multiple treatment sessions and appear more gradually, but require little to no downtime.
Your Expectations: What kind of result will you be satisfied with? Do you want your stomach to be as flat, tight and smooth as possible, or would you be happy with mild improvement?
Your Health: Are you healthy enough to have a surgical procedure? If not, CoolSculpting may be your only non-invasive option.
Weighing Your Options: What's the Difference in Procedures?
CoolSculpting: Best non-surgical option for excess fat removal
If you have small pockets of fat that just don't respond to diet and exercise, CoolSculpting may be a great option for you. CoolSculpting is a revolutionary, non-surgical body contouring procedure that removes unwanted bulges by freezing the fat until it breaks down. This allows your body to eliminate the fat naturally while your skin, muscle, and other tissues stay unharmed and healthy.
This procedure is FDA-cleared and comfortable, requiring no downtime. Patients may often decide to get CoolSculpting done in the abdominal area, and, oftentimes, in combination with other parts of the body, including hips, flanks, back, thighs, chin, legs, and more.
Unlike liposuction or a tummy tuck procedures, where patients must take time to rest and recover, with CoolSculpting, patients immediately return to their normal activities, including strenuous exercise. The best results may require multiple treatments, but changes are usually noticeable just three weeks after treatment, with final results seen after one to three months.
Liposuction: Best for effective (but less invasive) fat removal
Liposuction is highly effective for safely removing stubborn areas of unwanted fat. It is an ideal solution for people who have good skin, good muscle tone, and no excess, loose skin.
Unlike a non-surgical CoolSculpting treatment, liposuction is a surgical procedure requiring a very small incision to access the targeted area. The surgeon will insert a thin cannula which is used to clean the area with saline and anesthetic solutions, while loosening the fat cells. The fat cells are then suctioned away with a surgical vacuum. The procedure is performed on an outpatient basis with general anesthesia. It takes between one to five hours, depending upon the size of the treatment area.
In addition to slimming the abdomen, liposuction can be used in many other places of the body, including the sides (love handles), arms, chin, legs, and bottom. Liposuction is far less invasive than a tummy tuck, but it only removes fat. Liposuction will not eliminate excess skin or stretch marks, and it will not tighten loose abdominal muscles. While both liposuction and CoolSculpting are used to remove unwanted fat, the results can be different. Liposuction offers precise contouring with immediate results in a single procedure vs CoolSculpting which requires no surgery or downtime but a longer wait time for results.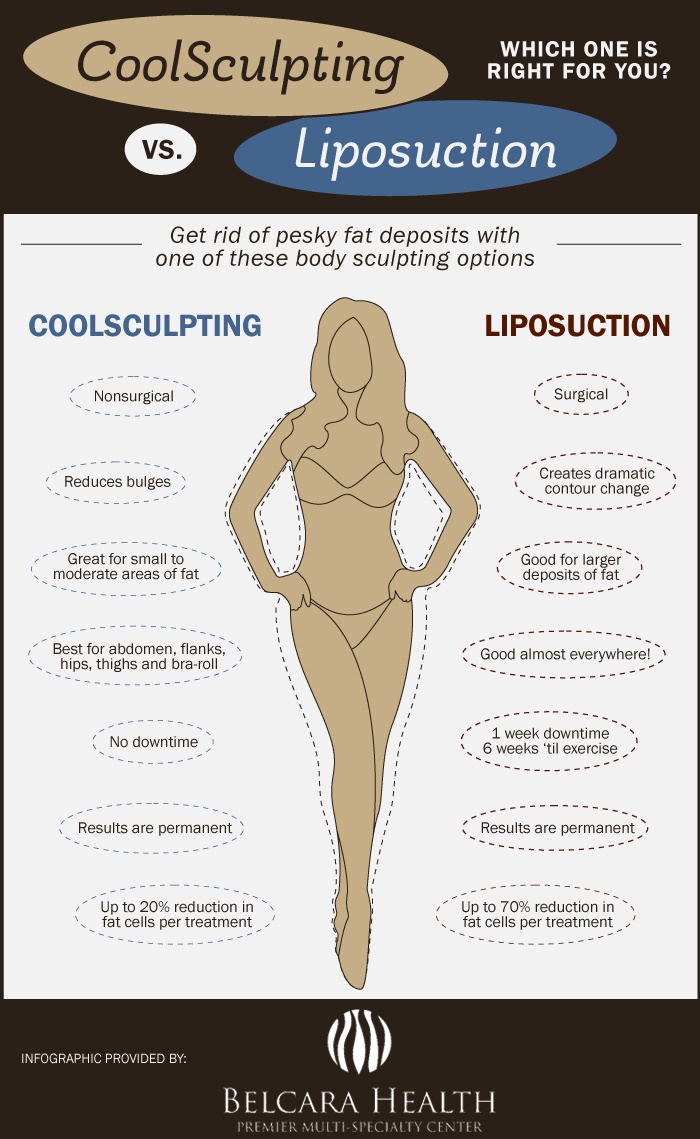 Tummy Tuck: Best for removing excess skin and fat
A tummy tuck, also known as an abdominoplasty, addresses the unwanted fat in a person's abdomen, sagging skin, loose muscles and stretch marks associated with life events such as pregnancy, drastic weight loss, and age. The biggest difference between a patient who qualifies for a tummy tuck vs liposuction procedure is the presence of this excess skin as a result of losing fat quickly.
A tummy tuck procedure starts with an incision across the lower abdomen, allowing the surgeon to remove excess skin and tighten slack or loose muscles. The incision is strategically placed to be as inconspicuous as possible, so it can be hidden by underwear and bathing suits, should scarring occur. The length of the incision is determined by the patient's anatomy and the level of correction needed to achieve the desired results.
Unwanted fat, skin and stretch marks are removed and weak, protruding abdominal muscles are repaired – leaving a tight, flat, smooth tummy! A tummy tuck takes two to five hours and is performed on an outpatient basis with general anesthesia. A tummy tuck is a more invasive procedure compared to liposuction because of all the tightening involved. The recovery time is also much longer for a tummy tuck vs a non-surgical procedure like CoolSculpting.
Tummy Tuck Guide
Thinking of a Tummy Tuck here in Baltimore? Get a sneak peek of what to expect. Fill out the form below and get access to our free procedure guide and learn the ins and outs of your personal transformation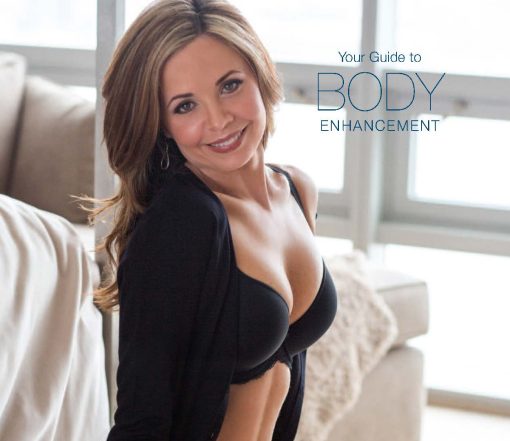 Combining a Tummy Tuck, Liposuction and CoolSculpting for Optimal Results
Ultimately, there is no one size fits all treatment for body contouring procedures. Each patient's situation is going to be different and our surgeons may frequently recommend a combination of procedures in order to achieve the desired results.
Because of the differences in what each procedure does, liposuction is often performed during a tummy tuck procedure in order to remove the excess fat before tightening and smoothing out the skin. CoolSculpting can also be performed before or after a tummy tuck or liposuction procedure to enhance the body contouring results further. At Belcara Health, we develop customized treatment plans to meet the specific needs and goals of each patient.
Learn More About Body Contouring Procedures at Belcara Health
While CoolSculpting, Liposuction, and Tummy Tucks are all excellent body contouring procedures, it's crucial to determine your specific goals based on your lifestyle and consult with a board-certified plastic surgeon who can help you determine what's best for you.
Successful body contouring requires more than advanced technology; it requires a deep understanding of aesthetic body proportions and a keen artistic eye. It is critical to select a surgeon who:
Has extensive experience with body contouring procedures
Listens carefully to your concerns and goals
Educates you on all your options and answers all your questions
Makes you feel cared for and comfortable
At Belcara Health, your care is our number one priority and we do everything we can to help you look and feel your best. If you'd like more information about our procedures or want to speak with a representative about whether a tummy tuck, liposuction, or CoolSculpting is right for you, schedule a consultation online or call us at (410) 296-0414.