Belcara Health
1427 Clarkview Rd, Suite 300
Baltimore, Maryland 21209
Phone: (410) 296-0414
Monday - Thursday: 8 a.m.–5 p.m.
Friday: 8 a.m.–1 p.m.

Arm Lift in Baltimore, MD
An arm lift removes the excess skin from the upper arms and reduces the circumference of the upper arms. If you are looking to get an arm lift in Baltimore, our experienced surgeons are ready to help. There are multiple ways to sculpt the arm, including Liposuction, Minimal Access Brachioplasty (axillary scar and liposuction), and Traditional Brachioplasty.
Who is a good candidate for an arm lift?
You may be a candidate for an upper arm lift if you have sagging skin on the upper arms. Upper arm tissue can relax with age, genetics, gravity and weight loss. The drooping of skin is from a stretching of the anchoring system of the arm and loss of supporting fat. Patients are very unhappy with this "loose hammock" appearance.
Many of our post-bariatric patients benefit from Arm Lift surgery after massive weight loss causes the excess skin of the arms to hang down.
Arm Lift Procedure Guide
Interested in learning more before scheduling your free consultation? Get a sneak peek of what to expect by accessing our Procedure Guides. Fill out the form below to get access and learn the ins and outs of your personal transformation.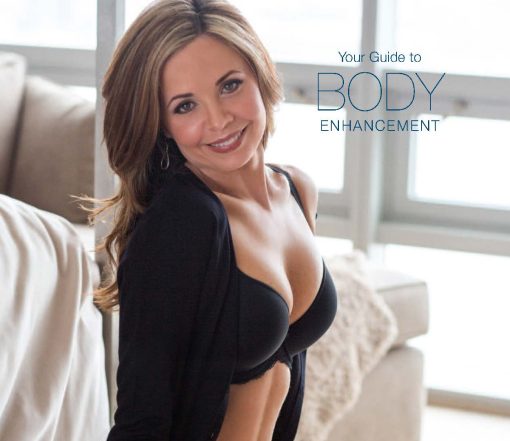 What arm lift results can I expect?
A more youthful appearance and thinner contour to the arms.
Reduction of flabbiness, extra skin, and fat, in the upper inner arms.
Greater confidence and comfort in clothing.
Long-lasting results.
Where will the procedure take place?
Most arm lift patients elect to have their procedures performed in our on-site surgery center. Our 5-star facility, the Clarkview Surgical Center, was designed with the safety, comfort, privacy, and convenience of our patients in mind. It features state-of-the-art technology and meets the most rigorous safety standards. We are proud to be one of the few outpatient surgical facilities to earn AAAHC accreditation, as well as certifications from Medicare and the state of Maryland. Because safety is our first concern, all surgical procedures are performed with board-certified anesthesiologists and registered nurses.
How is an arm lift procedure performed?
This procedure is usually done under general anesthesia. Surgical correction depends on the amount of extra skin that must be removed and how loose the supporting tissues have become. In order to remove the unwanted skin, an incision is made from near the elbow, into the underarm. Your surgeon will place the incision in the most inconspicuous location (inner arm toward the back), where the tissue can be best tightened.
An upper arm lift takes approximately two hours. This surgery is done on an outpatient basis with general anesthesia. Because safety is always our first concern, we always work with board-certified anesthesiologists to ensure that your surgery is as safe as possible. Following your surgery, you will be able to rest in the comfort of your own home.
What to expect during your arm lift recovery & aftercare
Patients may experience some degree of bruising, swelling, tenderness, and/or numbness.
Drains may remain in place for about three to seven days.
Limit activity for the next 5 -7 days following surgery.
Avoid strenuous activities for about four to six weeks.
Some patients are ready to return to work in a week.
Our Baltimore plastic surgeons may recommend a compression garment be worn for a few weeks for support.
Enhancing your arm lift
An additional procedure that may enhance the result of an upper arm lift is liposuction of the upper arms. Please discuss this option with the doctor.
How much is an arm lift in Baltimore?
We understand that having a general range of procedure prices can be helpful, so we are happy to provide estimated price ranges for the plastic surgery procedures we perform. The price range for arm lift procedures in Baltimore is $6,000 – $9,000. However, it is important to note that these price ranges are general estimates only.
The best way to learn about plastic surgery pricing is to consult directly with one of our board-certified plastic surgeons.  During your consultation, your surgeon will listen carefully to your concerns and goals and assess your medical history, lifestyle, and anatomy. Together, you and your surgeon will review all your treatment options and develop a personalized plan that meets all your needs. Only then are we able to provide an accurate price quote, which will include:
All visits before and after the procedure
Operating Room time and supplies
Surgeon's fee
Anesthesia fees
All medical devices, implants, and support materials
Financing & Payment Options
Obtaining the funds for elective procedures and products can sometimes be difficult, especially in these challenging economic times. At Belcara Health, we have a dedicated financing department, designed to help you get the financing you need, for the procedures you want.
Apply online
Why Belcara Health
If you are ready to improve your appearance with an arm lift, the practice and surgeon you select are your most important decisions. To be confident with your results, you must have confidence in your medical team.
With credentials from such esteemed institutions as Stanford University Medical Center and Johns Hopkins Medical Institute, our board-certified plastic surgeons are renowned for creating natural-looking, proportionate, beautiful results. Dr. Michael Cohen and Dr. Gary Vela will listen carefully to your goals, answer all your questions, and help you make informed choices. We believe in educating our patients about their treatment options because you know your body best and you should be a partner in the entire surgery experience.
Exceptional patient care is the core of our philosophy at Belcara Health. Our goal is for you to feel as if you just received the best care possible and absolutely love your results. Located in a welcoming, sophisticated, luxurious facility, our 5-star services and staff provide an unparalleled experience. At each stage, we make every effort to surpass all your expectations. We are constantly upgrading our knowledge, technology, and services – and it shows. Our strong reputation and the trust of the community validates this commitment.
Learn more
If you are unhappy about the appearance of your arms, contact us today to learn more about how an Arm Lift procedure can help you feel more confident.
Our practitioners who specialize in arm lifts in Baltimore
Dr. Michael D. Cohen
Medical Director, Board-Certified Plastic Surgeon & Breast Specialist
View Profile
"Dr. Cohen and his team are beyond stellar! They are highly knowledgeable, professional and most of all… warm & friendly. This procedure was a big decision and Dr. Cohen and his team made the start of the process very comforting and less unsettling for me! An aaward-winningteam!"
Back to Top