Belcara Health
1427 Clarkview Rd, Suite 300
Baltimore, Maryland 21209
Phone: (410) 296-0414
Monday - Thursday: 8 a.m.–5 p.m.
Friday: 8 a.m.–1 p.m.

CoolSculpting® Elite in Baltimore, MD
We now offer Baltimore CoolSculpting Elite services here at Belcara Health! Our NEW CoolSculpting Elite services provide the most advanced CoolSculpting technology on the market. CoolSculpting Elite is latest noninvasive fat reduction technology and the only FDA-cleared treatment to eliminate fat in 9 different areas of the body. The new system features reimagined dual applicators that provide 18% larger cooling area than the previous generation, saving you time while freezing twice the amount of fat cells. Love handles, muffin tops, belly pouches–all those areas of unwanted, stubborn fat can now be addressed without surgery, needles, or downtime.
Body Enhancement Procedure Guide
Interested in learning more before scheduling your free consultation? Get a sneak peek of what to expect by accessing our Procedure Guides. Fill out the form below to get access and learn the ins and outs of your personal transformation.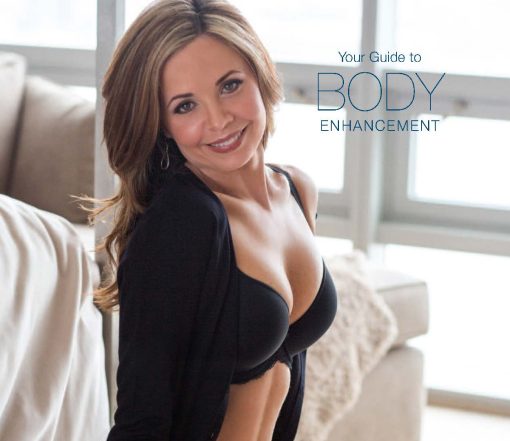 What is CoolSculpting?
CoolSculpting works by freezing targeted fat cells, which are then naturally flushed out of your body. This groundbreaking technology only targets fat cells, so your skin, muscle, and other tissues remain unaffected and healthy. There are no incisions and no downtime. Results look completely natural and can be noticeable as early as 3 weeks following treatment, with the most dramatic results after 1 to 3 months.
Patients share their stories
How does CoolSculpting work?
CoolSculpting technology involves a process called cryolipolysis, which freezes fat cells (cryo) to the point where the fat cells break down (lipolysis) without causing any damage to the surrounding tissue or skin. Cryolipolysis is one of the most studied nonsurgical techniques used for body contouring and has proven to be very effective at destroying fat cells.
What are the benefits of fat reduction with CoolSculpting Elite?
18% larger cooling area than the previous generation of CoolSculpting applicators
No needles, incisions, scalpels, or scars
FDA cleared and proven to be safe and effective
Minimal discomfort
No downtime
Predictable results
Which areas can be treated with CoolSculpting Elite?
At Belcara Health, we offer a wide variety of sizes and styles of CoolSculpting applicators, which allows us to target more areas of your body, address your concerns more effectively and provide you with better results.
Applicator paddles: For "pinchable" fat, we use a vacuum suction type of applicators with 2 connected paddles available in small and large sizes. This type of applicator works well for the upper and lower abdomen, bra-rolls, hips, and flanks.
Applicator pads: For "non-pinchable" fat, we use a flat applicator. This works well for the outer and inner thighs, upper and lower abdomen, hips and upper back.
Your medical aesthetician will recommend the applicator size and type that will be most effective for your body and contouring goals.
How is the CoolSculpting Elite procedure performed in Maryland?
CoolSculpting treatments are completed in about 1 hour. During your procedure, the appropriate applicator(s) will be applied to your area(s) of concern. During the first 5 to 10 minutes, you may feel some pressure and intense cold. For the remainder of the time, you should feel only slight pressure and can enjoy a movie on one of our iPads, read a book, or simply relax. Your treatment ends with a gentle massage of the targeted area so that the frozen fat cell crystals can be broken up for faster processing by your body's cleansing processes. You can return to your regular routine immediately.
What results can I expect with CoolSculpting Elite?
Each treatment removes an average of 25% of excess fat in the treated area, although experiences vary. Most patients require a package of treatments to achieve their desired results. We will work with you to create a personalized treatment plan tailored to your specific goals. You should begin to see changes as quickly as 3 weeks after your treatment and will continue to experience the most dramatic results after 3 months. But your body will still be flushing away treated fat cells for up to 6 months after treatment.
How much do CoolSculpting Elite treatments cost?
At Belcara Health, we understand that having a general range of procedure prices can be helpful, so we are happy to provide estimated price ranges for the cost of the Baltimore CoolScultping treatments we perform. However, it is important to note that these price ranges are general estimates only. The price range for our CoolScuplting procedures starts at $600+
Financing & Payment Options
Obtaining the funds for elective procedures and products can sometimes be difficult, especially in these challenging economic times. At Belcara Health, we have a dedicated financing department, designed to help you get the financing you need, for the procedures you want.
Apply online
Additional Frequently Asked About Our Baltimore CoolSculpting Services
Below is a list of frequently asked questions about our the Baltimore CoolSculpting Service we offer at Belcara Health:
Is there anything CoolSculpting can't do?
As fantastic as this procedure is, it's not the solution for every patient or goal. It won't help you lose a lot of weight. Instead, CoolSculpting targets specific areas of fat and is an excellent tool for putting the finishing touches on your body once you've achieved a healthy weight. It's also not a great option for treating cellulite. While CoolSculpting exclusively targets fat cells, it doesn't dismantle the connective tissue that causes cellulite.
Is CoolSculpting better than liposuction?
CoolSculpting and liposuction both have the same goal of targeted fat reduction and both provide incredible results. However, they each have their advantages and achieve results in very different ways as outlined in the illustration. You can also check out our post on CoolSculpting vs Liposuction vs Tummy Tucks for more information on which procedure best fits your body goals.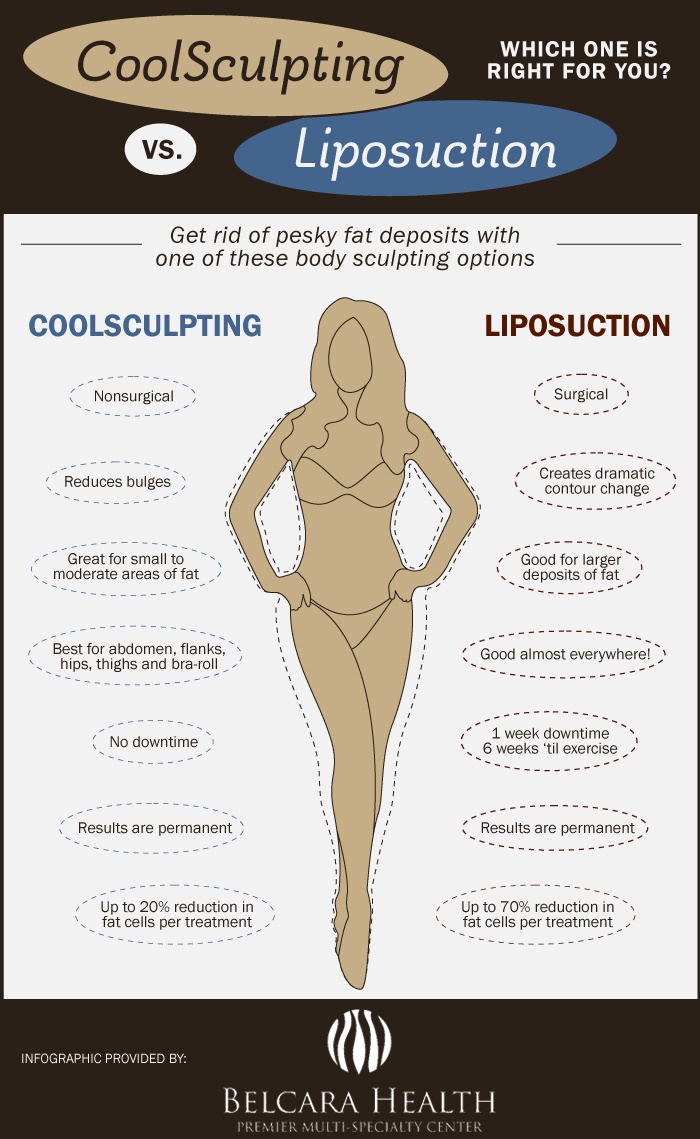 What is DualSculpting?
DualSculpting is CoolSculpting times 2! Got only one love handle to lose? We didn't think so. With 2 CoolSculpting machines, we can treat 2 separate areas at once, in a speedy treatment session we call DualSculpting. This lets you target stubborn fat on both sides of your body during a single appointment, saving valuable time and money.
What is CoolMini?
CoolMini refers to applicators that are specially designed to remove unwanted fat from smaller areas, such as your knees, chin, neck, and jawline. The shape, size, and curvature of the CoolMini applicator allow us to target these smaller areas to create a smoother, trimmer, more contoured appearance.
The size, shape, and curve of the CoolMini make it highly effective for treating the fat under the chin (submental) that causes the dreaded "double-chin." Just like CoolSculpting, the CoolMini freezes away fat for a more youthful, contoured jawline.
Why choose Belcara Health for your Baltimore CoolSculpting Procedure?
If you are ready to improve your appearance, the practice you select is your most important decision. To be confident with your results, you must have confidence in your medical team.
Exceptional patient care is the core of our philosophy at Belcara Health. Our goal is for you to feel as if you just received the best care possible and absolutely love your results. Located in a welcoming, sophisticated, luxurious facility, our 5-star services and staff provide an unparalleled experience. At each stage, we make every effort to surpass all your expectations. We are constantly upgrading our knowledge, technology, and services – and it shows. Our strong reputation and the trust of the community validate this commitment.
Brilliant Distinctions® Rewards Program
Are you a member? Brilliant Distinctions offers exclusive savings on select treatments and products, including BOTOX® Cosmetic, JUVÉDERM®, SkinMedica® products, LATISSE®, CoolSculpting treatments, and more! Membership is FREE. Call 410.296.0414 or CLICK HERE to learn more and JOIN today! 
Learn More
Contact us today to learn more about how CoolSculpting can help you feel more confident.
Schedule your private consultation today or by calling 410.296.0414.
We offer Specials, Events and Features every month, check them out HERE

Our Practitioner Who Specializes in CoolSculpting in Maryland
Back to Top